Nowadays, we have many options to create a dashboard. One of the most popular is Reactjs. Using Reactjs you can create highly engaging and customizable web applications. As well as You can create a single page or large application with minimal coding. Reactjs helps you to create impressive UI to improve the speed of the website. React comes with components so you can create a feature-rich and interactive app, which is easy to maintain and customize. The best thing is that you can create highly responsive and customizable applications. Here, let's check out the best React admin dashboard template for the website.
Berry – React Admin Dashboard
Codedtemes launches new react material-based Admin dashboard which is -BERRY. Using the Material-UI library to build faster, beautiful, and more accessible React applications. Berry is SEO Optimized and compatible with all major browsers(such as Mozilla, Chrome) and devices(Tablet, laptop). The template comes with a Light dark version which is easy to access.
Feature
Build on Material-UI

Rich design

Based on React-hook

Fast loading

Light dark version
Able pro React admin dashboard
Able pro is a stunning and fully responsive React admin dashboard template. It contains a ready-to-use feature package and provides a flexible solution to every problem. Able pro comes with a one-click change light-dark layout and set of components for the unlimited creativity of the user. It also includes easy navigation and useful animation feature.
Feature
11+ menu option
100+ external plug-in
Live customizer
Easy navigation
Custom animation
Fuse
Fuse is a complete admin template built using Google's material design guideline. It is using a material UI website as the primary library while utilizing the redux framework for state management. It includes many the fox feature such as crate a frontend panel for an e-commerce website, using multiple templates. Fuse includes easy color management which provides an easy user interface.
Feature
20+ pages layout
Major browser compatibility
Custom color scheme
Integrated with GitHub and Slack
Easy to use
Responsive
Wieldy
Wieldy is a complete React admin template that implements the Ant design concept. It has all the necessary React libraries to develop robust applications in a short time span. In the latest update of wieldy, it includes HTML, jQuery, and Bootstrap. It includes 3 sidebar layout options (such as Folded, Default, and drawer).
Feature
10 awesome layouts
100+ widget
Multiple color scheme
RTL ready
Easy to install
Xtreme
Xtreme reacts admin lite is a lightweight react dashboard template featuring one basic dashboard. It provides support for material icons and fully responsive. It is based on a modular design that offers the user an uncomplicated and customization option.
Feature
10+ Unique demo
Pre-built app such as chat, email
Easy customization
Light dark scheme
Megamenu
Elite able
Elite able is one of the most comprehensive admin templates. It comes with flexible design and structure coding. It includes the high feature-rich pages layout and a bunch of the components to make your work easier. It's compatible with all major browsers such as chrome, Mozilla, and devices such as a mobile, tablet. The template is compatible with all devices and adjusts layout according to device size.
Feature
200+ pre-built pages
14+ layout option
Fast loading
SEO optimize
Browser compatibility
Primer
Primer is a material-based admin template. It comes with an angular and react feature, that provides every feature to start any SaaS, CRM, and CMS based product. The overall interface is user friendly and flexible. The main feature of the template comes with react & angular, light and dark version, different feature for a different version.
Feature
Flexible design
SaaS Support
Light Dark version template
Easy to customize
RTL Support
Single app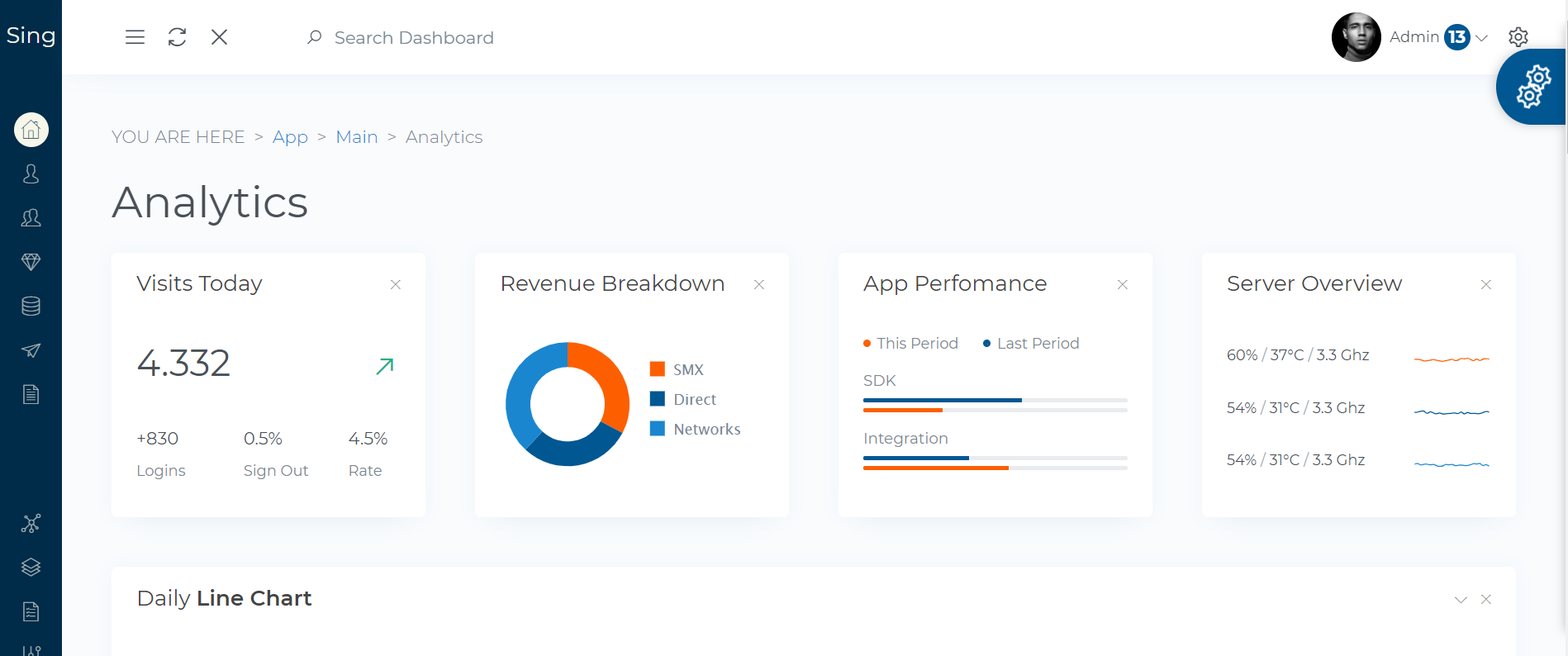 The single app was designed for any type of web app dashboard template built with the latest react version. It provides you entire intuitive programming framework. Server-side rendering and NodeJS backend provide a further speed of development. Using the single app you can build various types of applications such as SaaS, CMS, Project management tool, and financial app.
Feature
10+ page layout and 2 dashboard
8 chart library
Fully responsive
Theme supported
Fully documented codebase
Portal
Portal is a full pack of traits for establishing the admin dashboard of the higher standard. It provides plenty of options to choose from with even more possibility to create an interactive design. It comes with the 6 stunning layouts that will help you select the ideal look for the app.
Feature
Lazy Loading
Pre-defined chart
Error page
RTL support
Free update
Vuexy
Vuexy is best selling React admin template. It is a highly responsive, clean, and well structure code. Vuexy lashed with Vuejs, HTML, PHP. It provides a user-friendly experience. Vuexy is a most developer-friendly Vuejs+HTML dashboard which includes 100+ cards and 50+ components. It is RTL Ready.
Feature
6 workable app
E-Commerce layout
Easy navigation
Custom-built
Multi-lingual
Clean UI reactjs templates
Clean UI is mostly used for when you want to create a large application, it is perfect for you. It is one of the most dynamic admin templates. The best part is that you can acquire different versions of the dashboard including Bootstrap, React, Angular and Vue. Clean UI provides structure coding and interactive design.
Feature
40+ page layout and 15+ app pages
80+ UI feature
Multi-language support
Cross-browser compatibility
Responsive and retina ready
Read more Article: Click Here